It is estimated that there are 30,000 children living rough on the streets or in the slums of the city of Madurai in Tamil Nadu, South India. They survive by rag picking, begging and scavenging in sewers which run right past their homes. The caste system keeps these families in poverty.
NewDawn India exists to provide support for the Vidiyal Programme, run by Dr. Jim Jesudoss, his wife Dr. Sharmila and their dedicated team, which works towards the relief of poverty in the Madurai slums. 'Vidiyal' means a new dawn or new beginning, and new hope.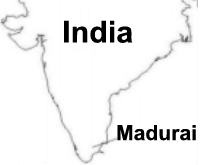 The Vidiyal Street Children Programme
The largest part of the Vidiyal Programme is the work with the street children. Over 300 children come daily to the Vidiyal drop-in centres, where they receive unconditional love, medical care and their emotional and material needs are met. While still living at home with their families in the slums, the children are placed in appropriate schools and colleges depending on their needs and aspirations. The drop-ins provide opportunities to complete homework and to learn new skills such as dance, drama and karate. There is a special emphasis on projects for children, healthcare, education and training.