We would like to share our latest update from Jim with news which is more encouraging in spite of the present dangers of life in the slums.
"Here at Vidiyal we're fine and safe. You will be pleased to hear that Chandran is back to normal health and thank you so much for your prayers and moral support at this difficult time. Our volunteer S.Mani's mother has returned from the quarantine centre yesterday. She is fine but is asked to stay home for another week. I spoke with Mani this morning and they seem to be fine. He asked me to send his love and thanks to you all, especially for the prayers offered. The number of positive cases in Melavasal is stabilizing as some house blocks are quarantined which helps in containing the spread. Many got cured and returned back. Our other partnering communities are fine and safe.
Our sponsored children's families expressed their gratitude for the support of Rs.5000/- each from NewDawn/Vidiyal at this crisis time, so that they can pay their rents and keep their homes. We managed to find a donor to supply a 3rd round of relief supplies to another 110 families whose children are not sponsored yet. Yesterday we did this distribution and the families were very appreciative of this gesture showing concern at the time of distress. Many said that only Vidiyal gave such a quality of relief materials that too for the third time in the past four months.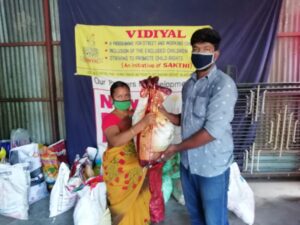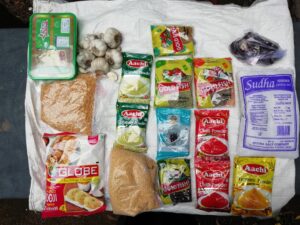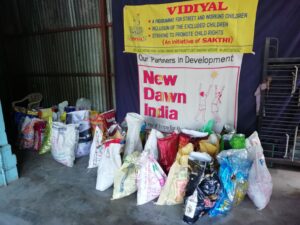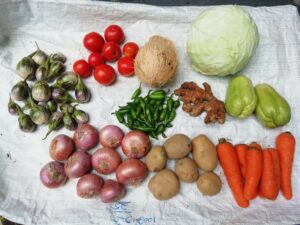 As there are no children's programmes at the moment, there is still money in the allocated budget. I thought of requesting for utilising the budget for 'supplementary food' for making a child specified relief supply to sponsored children. This would cost Rs.1000/- per child which would cover an energy drink, fruits and toiletries. As we haven't utilised this budget I thought this would be appropriate to provide at this time. I am enclosing a budget for the same.
I am pleased to let you know that we are involved in a consultation regarding Young Voices Working group at the state and national level, regarding age of marriage for girls. Our girl volunteers and adolescent girls participated in two Focus Group Discussions which will be sent to the national platform. We have done one FGD through a conference call and the other in three places with social distancing."